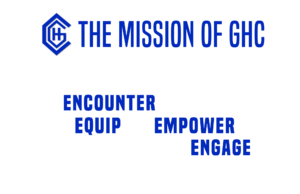 E N C O U N T E R
– We want a dynamic relationship with the Lord and His Word.
We participate in joining together to celebrate and to worship the Lord through preaching, singing, communion, baptism, giving, prayer, praise, and sharing the Lord's Word and His works (1 Corinthians 16:27-29). All that we are as a church will and should at all times exalt our Lord and Savior, Jesus Christ. It is not about us, it's about Jesus and us having a vibrant, exciting relationship with Him.
E Q U I P


– We believe that it is scriptural to encourage & train believers
for personal spiritual growth and ministry.
We participate in the process of encouraging, equipping and educating believers (adults, youth and children) for their personal spiritual growth and work of ministry to one another through Bible studies, LIFE Bible classes, fellowship activities and training experiences as the opportunities and needs arise (Ephesians 4:11-13). We believe the five-fold ministry (Ephesians 4:11) that is given to the church, recognized by the church and operating through the Holy Spirit, should be evident and effectively working, equipping, and training all believers. We participate in the ministry of overseeing and caring for one another through encouragement and counsel in order to present every person complete in Christ.
E M P O W E R

–
We want believers to experience and be empowered by the Holy Spirit.
We participate in encouraging believers to receive the empowering of the Holy Spirit in order to do the work of God in the last days. Spiritual power is the divine energy God is willing to express in and through us and the divine authority needed to carry out the work God has called us to do. The empowering of the Holy Spirit is described and revealed throughout the New Testament. We believe that gifts, healings, miracles, signs, wonders and spiritual authority over the works of Satan are enabling's that the Holy Spirit gives unto those that will receive them.
E N G A G E
– We want a dynamic relationship with believers and
non-believers.
We participate in outreach to our community and world through corporate and individual relationships. We pray for God to open up doors for the good news of salvation to be expressed and experienced in a realistic, relational and responsible manner (Matthew 28:19-20). Being an example of Christ in word, action and deed is to be demonstrated on a daily basis "so that others will see our good works and glorify our Father in heaven" (Matthew 5:16).